Not just stories, no more than this, experiences and insights that enrich and change lives.
Visit to child psychiatry Männedorf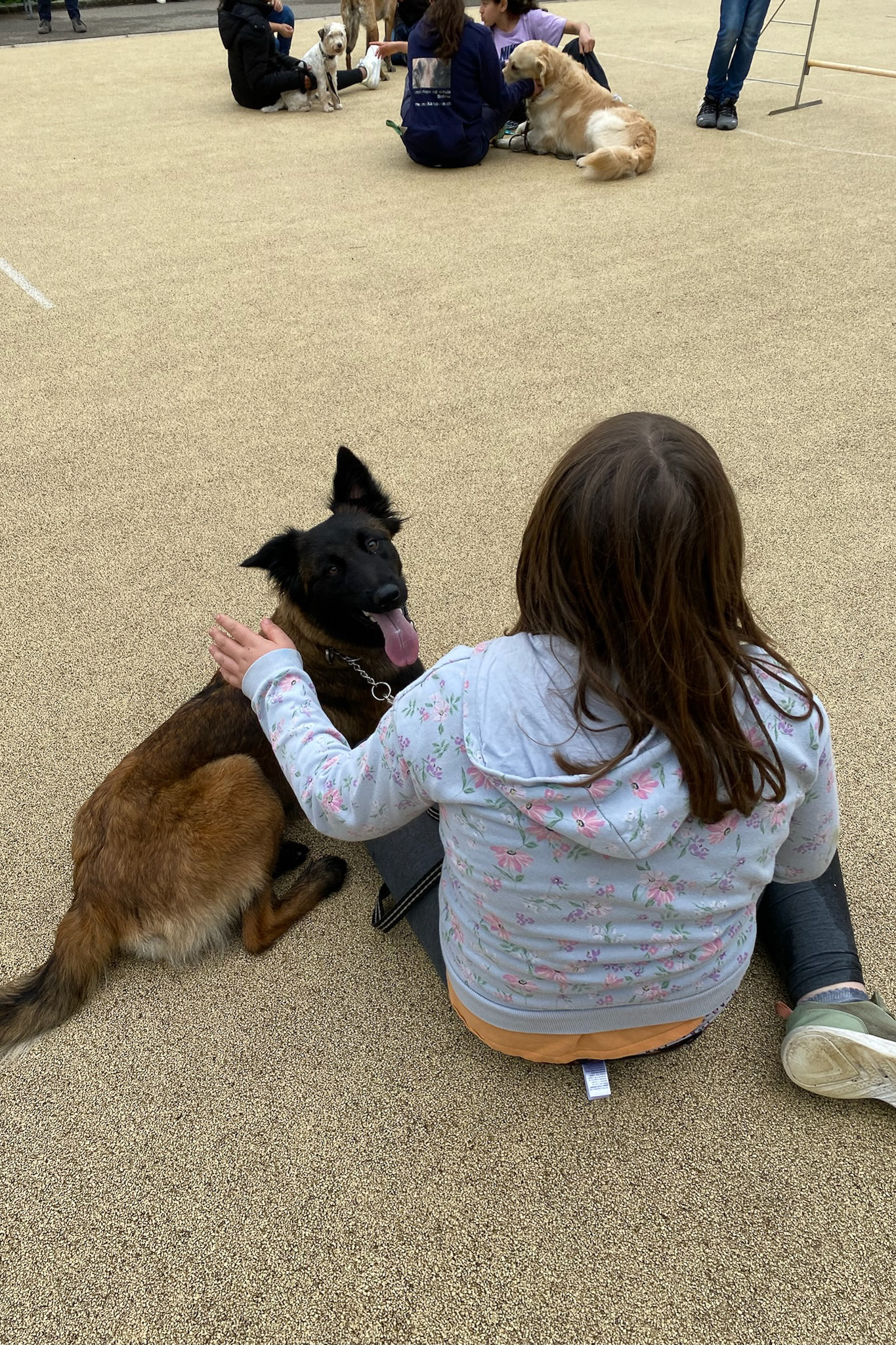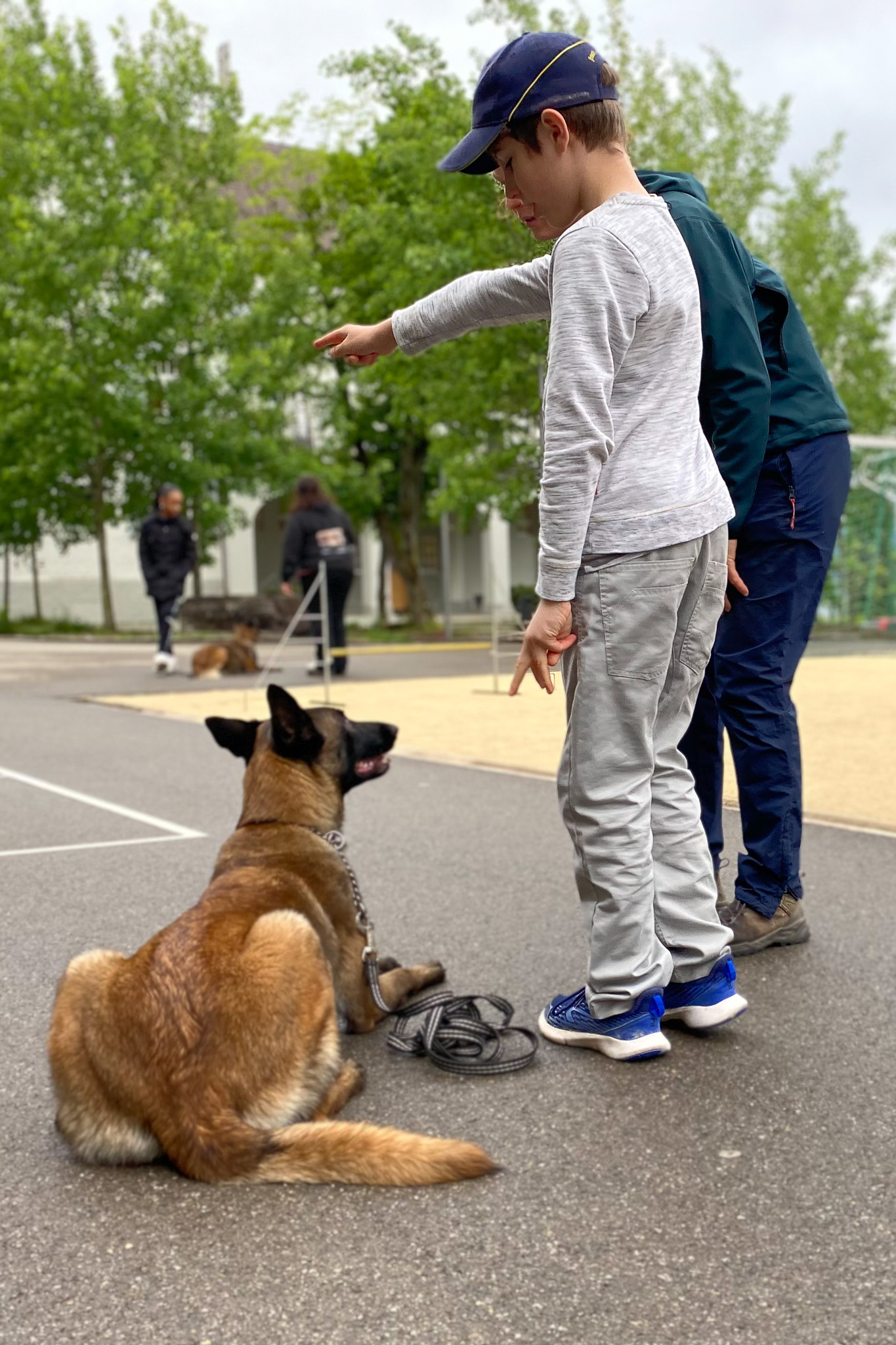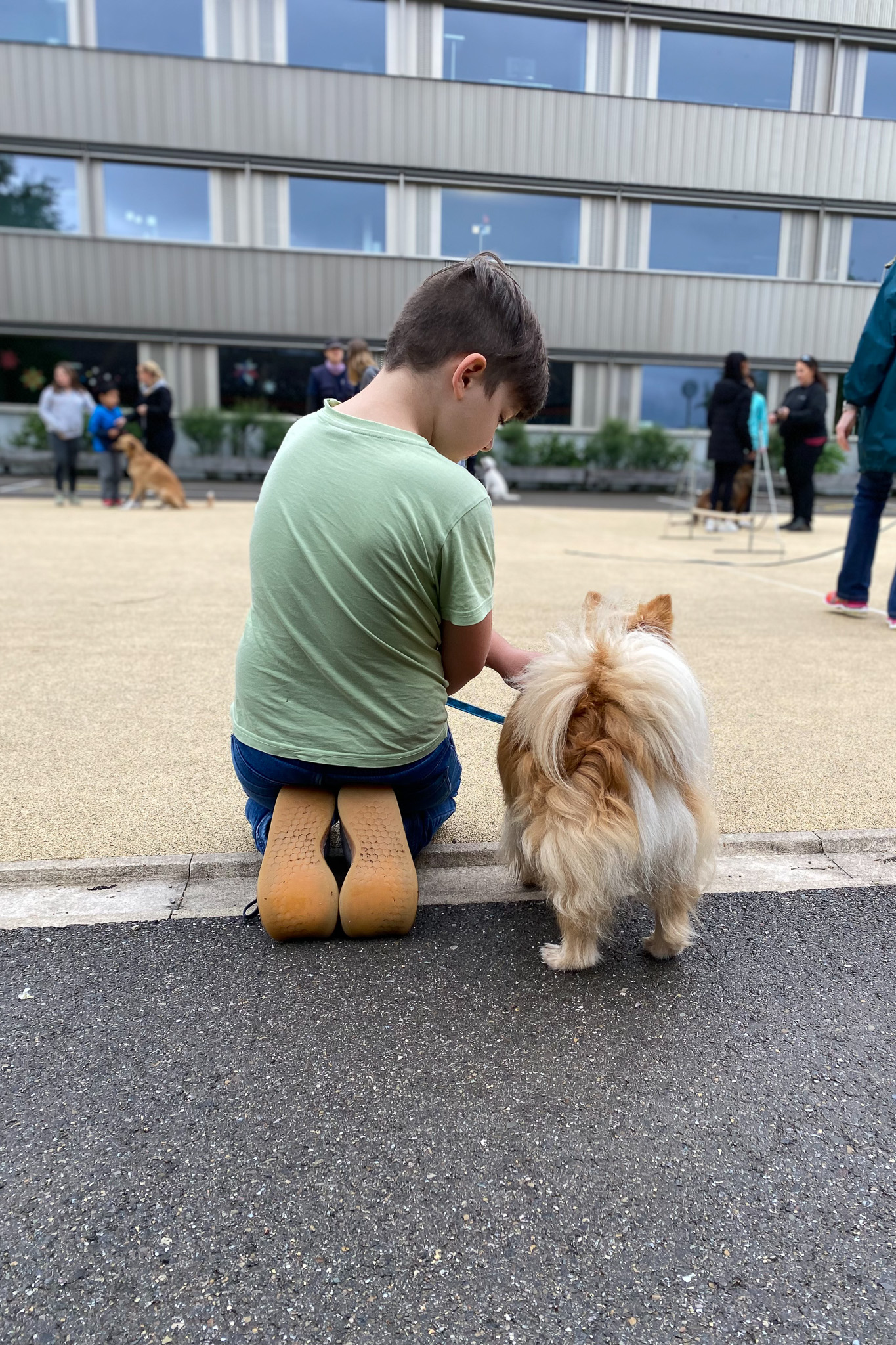 Gabi with Oski:
The shining children's eyes say more than many words. Oski and I are grateful that we were able to be part of child psychiatry and look forward to giving the children such a moment again on their next visit."
Toni with Lupo:
"I was allowed to be there together with Lupo during the visit to the children's psychiatry Männedorf. I was very excited to see what awaits us there. Already on our arrival, the anticipation of the children, who were just at the break place during the break, was noticeable and audible. With the start of our screening, however, it became quiet and the children watched us eagerly.
When the children were allowed to choose a dog with a handler, I was immediately selected by a boy who loves Labradors. He immediately started and went over the hurdles together with Lupo. In the hide-and-seek game of the dog toy, both the boy and Lupo really got going and spurted each other to better hiding or better searching.
I was particularly impressed by the children's willingness to try something new and to get involved in a new situation in such a short time. I am already looking forward to the next visit and am again curious who or what awaits us."
Nicole with Namida:
Yesterday's visit to the children's psychiatry Männedorf with our therapy dogs from the dog therapy and guilt Bodmer was once again totally impressive for me. It fascinates and touches me very much how the most diverse dogs with their unique characters conjured away the children and young people in the short time of our visit with their sometimes initial fear in no time and left a radiance in the eyes and a smile on the lips. Hopefully this radiance and smile will last for a long time and will remind us all of these moving moments in Männedorf much later.
Heartfelt thanks to Monika Bodmer from the Bodmer dog therapy and school that my Mali dog Namida and I were allowed to be there."
Erfahrungsbericht Esma & Päde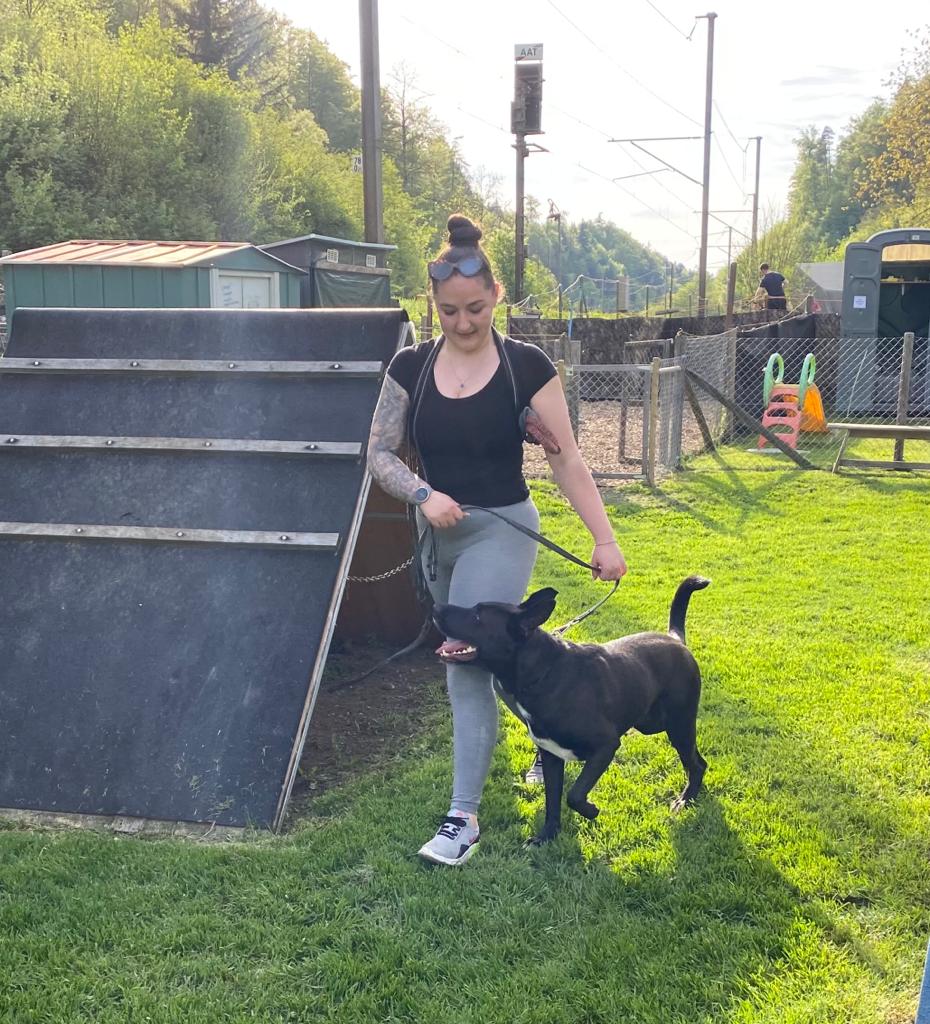 After an odyssey of many treats and different dog trainers (1.5 years – 2 different HT – different methods), of which none of which could help us with our problems, we ended up in January 2023 by an acquaintance at the dog therapy and school Bodmer.
The daily challenge was the dog encounters. Our shepherd mix Kan (street dog from Ibiza) escalated on a leash with pretty much every dog and this regardless of distance. We had already practically given up hope of getting to grips with this problem at all, as we were told by the previous dog trainers that Kan had a trauma and did not help.
Today, 3.5 months at Monika, we are able to walk past dogs at a distance without escapades and even train with you in a confined space on the dog training area. Monika helped and helps us to understand the dog as a DOG and to act and react correctly. Every hour/minute at the dog therapy and school Bodmer is an enrichment for dogs and humans.
Greetings and nice day
Esma and Päde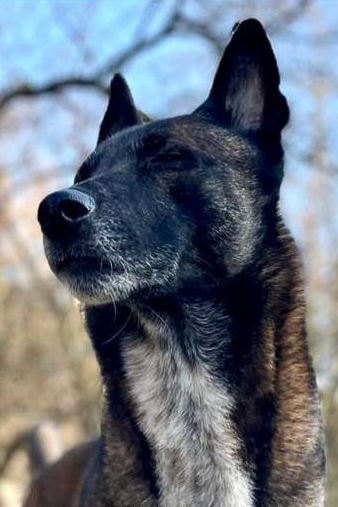 … I miss you… thank you for what you learned… thank you for fighting through my illness… you learned me to go on… thank you for being a teacher to my students… thank you for the hours in the children's homes, they will miss you.
Always in my heart – Len…
We adopted our dog Dalia from an animal welfare organization. She comes from an animal shelter in Sardinia.
At the age of five months, she came into our lives. Dalia is a very anxious dog.
Loud noises, crowds, large objects, public transport and much more, made her freeze with fear. She lay down completely on the floor and did not take a step.
Monika showed me how to react in such situations. This gives me security and I also transfer it to Dalia.
A good example is the umbrella, which Dalia was terrified of. She immediately went into "reverse gear" when she spotted one.
In the dog school, Monika took her time, led Dalia on a leash, while there was an umbrella nearby.
I was able to learn a lot by watching. In everyday life I can now always handle a situation with an umbrella and Dalia learns from day to day that this will certainly not harm her.
The training in the Hundetherapie und -schule Bodmer is fun and strengthens the bond between Dalia and me, so that we can master even the most difficult everyday situation.
A big thank you to Monika and her team!
Rahel
In June 2018 Lupo came to us as a small Labrador puppy. After a German Shepherd whom I worked with in service, Lupo was the answer for the compromise between family and sports dog. Lupo masters these expectations excellently, and his tail wags in turbo mode when the girls lead or cuddle him.
He already showed his working strengths at the age of 18 months at the first BH1 exam. He already convinced with 99 out of 100 points on the track. After another BH1 exam, we chose the path of IGBH exams and worked our way up to the highest class IGBH-3, which we successfully passed in autumn 2022.
In order to promote the strengths in tracking, we trained on the side for the tracking test. Already in the second attempt we passed the IFH-1 exam and only two months later the IFH-2 exam in summer 2022. The knowledge about the expected sausages let Lupo drive again and again concentrated over the extreme test distance of 1800 steps.
Lupo also benefits from his good nose in his hobby – he has already been able to sniff out many attractive female dogs in this way. :-)
Lupo also showed his versatility during a visit to an animal shelter.
Thank you my Bubi for accompanying me on my way and for walking with me over the big stones! I remain curious where we are going.
Our next goal is to qualify for the Swiss Championship in the IBGH. So the training continues.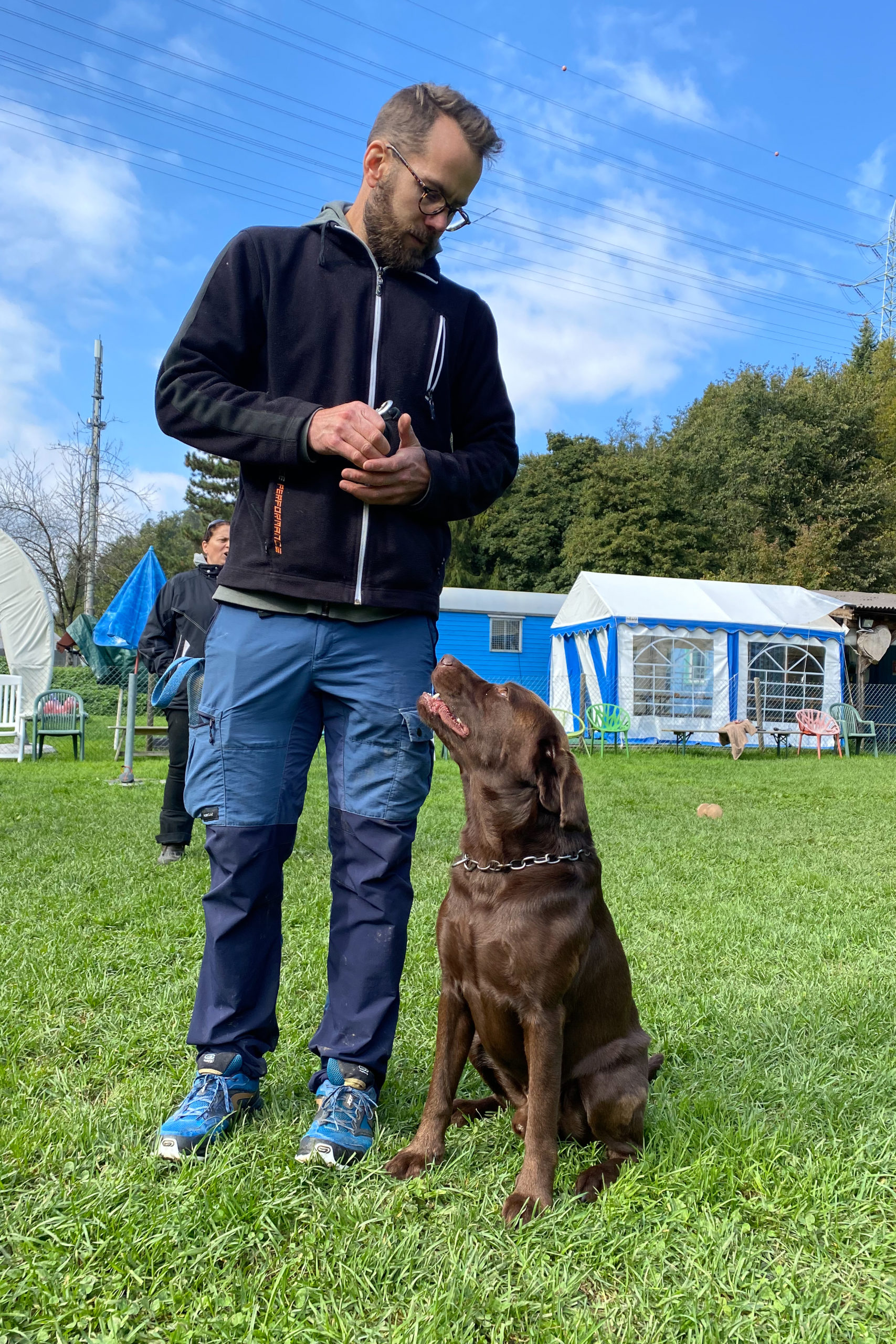 5 years ago I saw Monika and her students with their dogs as part of a protective training. I thought, "Poah, how do they do that? I want to be able to do that too." So I started with Monika and learned that dog training and dog sports are not only tough, but also fun. A whole new world of dog training was opened up to me, which I did not know that way before. Unfortunately, I came to Monika too late with the German Shepherd, too much had gone wrong in the past.
Even in the sixth year with Monika, with dog number two, it is still hard work, but in the positive sense of "challenge, further development, work, repetitions, endurance….." – and it is all the more fun.
We continue to work diligently as a team and are excited to see what the future holds.
We have been training with our two males with Monika for several years and have learned there to lead our dogs consistently and with heart, hand and mind, but that there is still a lot to learn for us showed our last holiday in Italy. In our cottage there was a very steep spiral staircase, one of our two dogs just couldn't move up these stairs. We tried everything, first we wanted to lead the dog up on a leash, but he wriggled back in panic and slipped, then we tried curls and treats, even placed the "Prosciutto di Parma" on the steps of the stairs but more than one step the dog just did not want to go up. We were starting to despair, because the bedroom was on the upper floor and we didn't want to leave the dog down alone at night. So we wrote to Monika and described the situation to her. Monika was just at a competition but still took the time for a phone call with us. First of all, she "washed our cap" vigorously; "How long have you been in training with me now? How do you come up with the idea of luring the dog with treats? You only make things worse" afterwards Monika explained to us what to do; "Take the dog on a leash, briefly without a playroom and lead him close to you up the stairs, do not let him back, take breaks if necessary, accompany him and stay calm and safe." Said and done; so we took the dog on a short leash and off we went to the stairs, at first he resisted wanting to back down the first three steps we had to pull him up with the leash on the collar, we took many breaks and from the fifth step he still ran reluctantly, the last steps he took independently arrived at the top we praised him and sent Monika a photo of our success. We were particularly surprised that the next time the dog only needed support with the first step, he took the rest of the stairs independently and already on the third attempt he simply went up the stairs as if nothing had ever happened.
We were very grateful for Monika's support, without her we would probably not have dared to "go through with it" we needed this reinforcement and the step in the right direction.
Your dog school is great, we not only learn how to lead the dog, but also how to understand the dog. Thank you for your patience and for passing on your knowledge to us. 🙏
Tairo came to us when he was 3 1/2 years old. The previous owner had warned us that paw cleaning and grooming can only be done with a lot of treats. We never made friends with this circumstance and looked for help and support for this problem. Through recommendations we then came to Monika in the Hundetherapie und -schule Bodmer.
And lo and behold, after only 1 training we can clean, brush + care for Tairo's paws without any problems. Of course, we have booked more trainings and are amazed and enthusiastic about how much potential there is still in our dog, which we did not expect. With a lot of game and heart we are now on a great way together.
We would like to thank the entire team from the bottom of our hearts for their great work on us and with Tairo.
Rebekka, Justin & Tairo
We only had our dog Beda for 7 months when we started with Monika. Before that, we worked a lot with "Guzeli&Würstli". She was 4 years old at the time of adoption and had no training before, neither leash walking nor retrieval. She often did not appreciate us at all and was very solitary.
With "Guzeli" soon one or the other command worked, but never really, and we felt that we could not build a real bond between us & Beda. When Monika explained to us at the first training that they do not use "Guzeli", we were very skeptical about whether this works for our dog. But we stopped immediately after the first meeting & focused on working with the body & the connection to the dog. It went much better immediately!
It also felt better to work with head, heart & hand, instead of muddling around in the bag for treats & brainstorming when the right moment of "reward" is. Also, the fact that the confirmation for Beda is now a joint game instead of sausage is so much nicer and more satisfying; it feels much more like a team between us. She comes out of herself more and more every day, and so do we!
Thanks to Monika & her whole team for allowing us to learn and develop in this way.
Jelena & Tobias
What I promised, I have to do and mean.
I also have to mean what I do, because it's a promise.
If you accept that you can never completely wipe away certain things, but are always in action, face the same thing again and again and again…
If you do without recognition, without the thought: "if I do this, I will solve it forever", if you do to see when you do in trust, even if sometimes you don't succeed.
Get up and continue without excuses and whining, without defying like a small child.
When you do, for the sake of doing, a vastness will open up to you and you will recognize and feel what doing means.
Free of excuses, free of lies, free of the carousel, free of the thought "what do the others think". The others…..painfully realizing that many do not want to be free, many do not want to, because they are still too well.
It hurts because others can no longer do it through illness, murder, sexual abuse.It hurts to see this. It makes you angry.
That's exactly when it's time to do. For those who can no longer do so. Just to be there for them until the end is approaching.
Because the others are doing well. It is a decision to be in constant action.
M.R.B.
Thank you for the therapy dog assignments in the Lighthouse, children's homes and the visits to the old people's homes.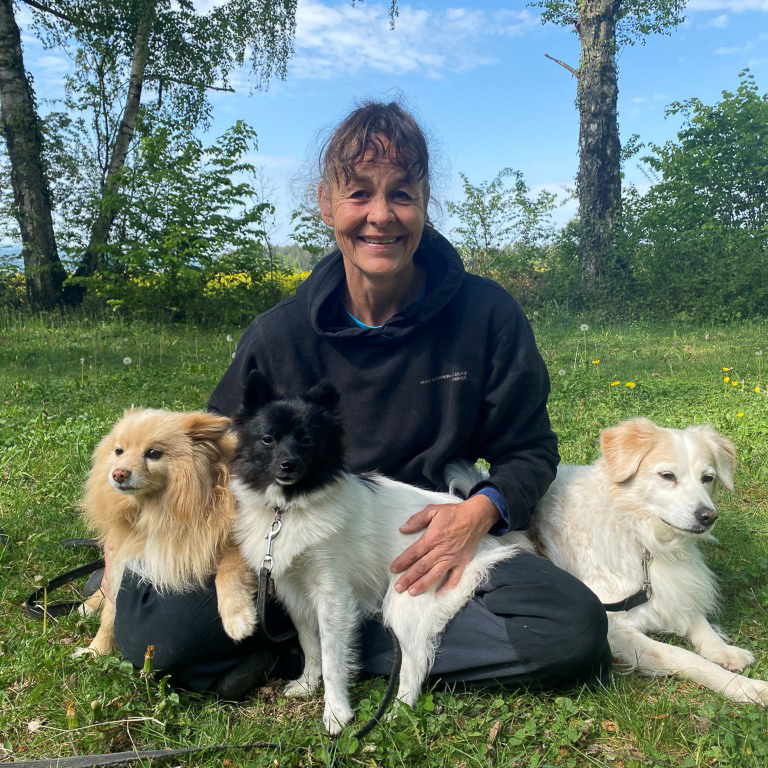 Juhuiii, in the all-around BH 3 everything passed.
To obtain such a result with my St. Bernard is just awesome and everything without treats. Thank you Aruna, you are a mega dog.
Yes it means a loooot of work, needs a lot of patience and practice, practice, practice. In order to discover mistakes, you have to look at yourself honestly and implement what you have learned as well as possible. If you fall, then it is important to get up again and keep going. Lead the dog with joy, but consistently and be there with the heart.
What is the most important thing for me is that I do exactly what my trainer Monika Rutschmann / Bodmer says.
Dear Monika, thank you very much for your support and trust.
Monika Thoma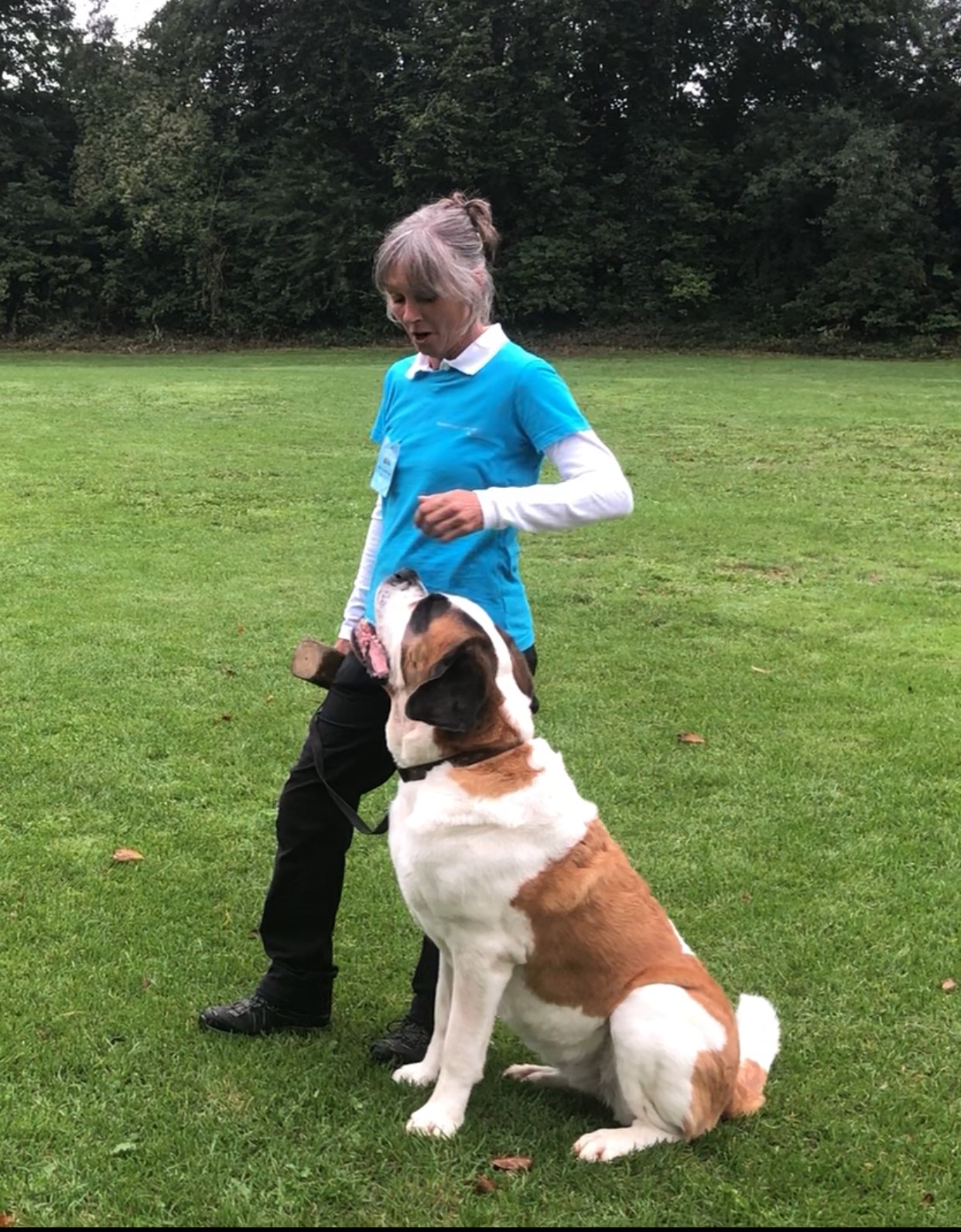 Leadership = strength, taking responsibility, authenticity and also deep joy.
Today, for the first time in my life, I have experienced/felt that I would rather lead than be led. Because leading means taking your life into your own hands and taking responsibility for every action.
On the other hand, let yourself be led by excuse/convenience in order not to do it yourself.
My dog is my tool in a positive sense, my companion and teacher. He accompanies and supports me in my learning and doing.
Respect, humility, gratitude to the nature of the dog. Leadership = respect.
To get involved, to allow, to have the courage to go through the pain of previous injuries, to look the pain in the face and let go of it, so that something new can arise, because life means "together".
Recognized how valuable and big the small steps are….
Miriam
Dear Monika
I actually wanted to write a text for you, but something else came up.
Thanks for everything.
Best regards,
Silvana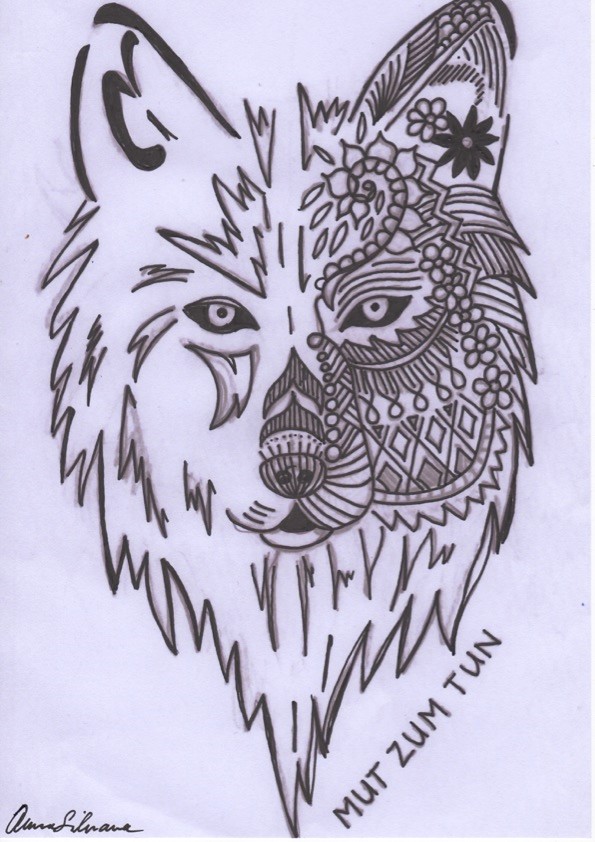 In all the years in the Hundetherapie und -schule Bodmer I have been allowed to train my personality. With every dog I had and still have, I could and had to look at myself again and again and work on myself, which was and is not always easy.
Looking back, it was a hard and faltering path and sometimes, I just wanted to throw the whole thing and say "blas mir id Schue, mag nümme". However, when I looked into the eyes of my respective dog, I said to myself again: No, you continue on the path now, no matter how difficult it is.
Also, some decisions were not easy and some decisions were perhaps wrong, but situational and at that time, it was the decisions that I made myself and bore the responsibility for them and were the right ones at that moment.
The training with Monika is a great personality training, not always easy, but exciting. I've been able to benefit a lot from it over the years and I wouldn't be where I am now.
Some things I could not and did not always want to accept and as a result I came to a standstill and stopped in training with the dog. Sometimes I reached my limits and I thought it couldn't go any further, it's always the same. I only saw the end result, but not the small successes along the way. There were always setbacks, because then I didn't move forward and stopped. It is always important for me to move forward and not to falter or stop.
It is the best decision of my life to train the dogs and myself with Monika. We grow into a team and walk the path together and thanks to the dogs I look at myself again and again to advance in the training.
Andrea
What dog training means for me…
Take a deep breath, relax, do not rush, do not cheat, go through the fear, and then again.
Away from the façade, back to authenticity, to simplicity. Don't pull off a show. Working with the animal, learning respect for the being.
Away from abuse, breaking the cycle, learning again to feel myself, learning again to trust.
My dog as a companion and teacher.
Most valuable school of life, which gives me strength and support and brings me so much further than every study, every title, every award.
Miriam H.
My findings from the many years of training at Monika are:
constant growth – change – letting go
People are only too inclined to the convenience of lying and complaining to themselves.
To find excuses and ways out/escapes.
Growth brings change and change means letting go. This results in growth again……..
This cycle is called LIFE.
If I live (=feel) these words consciously, I recognize the importance of my own (also mental) discipline, consistency and the philosophy of the Hundetherapie und -schule Bodmer.
HEAD – HEART – HAND
Only when I recognize and acknowledge my "secret" thoughts (head) do I feel what comes from the heart and thus I can act/execute (hand).
GROWTH = head(understanding), CHANGE = heart(feeling), LETTING GO = hand(doing)
This results in an interplay of deep honesty with the dog and leads to the "magical" moments with my 4-legged friends.
Thank you for the insightful and instructive training hours
Gabriela
We have been with you for a good year now and regularly attend the exciting, instructive and really "different" dog courses with our mixed breed dog. We would never have thought that you can achieve so much within such a short time. To see, feel and experience the bond between animal and human being but also in the whole family is a new and wonderful experience. The various seminars that we were allowed to attend and continue to attend bring us forward every day and let us grow together as a dog and dog handler, both humanly and in a team. Monika and her team are involved with so much passion that you immediately feel comfortable and get infected. The positive, clear, structured and always loving nature corresponds to us completely. We thank you for all the great experiences together with you, the children and the four-legged friends.
Sincerely Anja, Pepsi and children
I met Monika at a demonstration where she showed her skills alongside police dog handlers. I was immediately impressed and very touched. It looked like a magical dance that the dog handlers danced with their dogs. The dogs followed their guides trustingly and you didn't hear a word. This reverent calm and concentration captivated me. At that time I owned an almost deaf Doberman. I had reached my dog handler limits through conventional dog training with sausages and Co. That's how I ended up with Monika Bodmer.
Already the first training showed me that I was on completely new terrain here. My person and the nature of my dog were the focus. The sausages were replaced by my body and playing. Thus, I learned to use my body as a guiding instrument and learned a joyful game between man and dog. I also learned consistency, a consequence characterized by fairness and clarity.
Meanwhile, my husband and I have built a Malinois male and a Parson Russell with the help of Monika and her team. The trust that is built up from day one has become irreplaceable for me in dealing with my dogs. I can still learn a lot in every training, work on myself and gain ever deeper insights into the nature of the dog and our human handling of it. Our four children also grew up with this "Hündele" and use it completely naturally. I have known the Hundetherapie und -schule Bodmer for 10 years now and look forward to every training with Monika and her team. Thank you for your tireless efforts and support!
Best regards,
Bigna
Training experience of Andrea Feurer
During all the years in the dog and guide training Monika Bodmer, I have been able to train my personality.
With every dog I had and still have, I could and had to look at myself again and again and work on myself, which was and is not always easy and simple.
Looking back, it was a hard and faltering way and sometimes, I just wanted to throw the whole thing and say "b blow me id Schue, mag nümme". However, when I looked into the eyes of my respective dog, I said to myself again: No, you're going on the way now, no matter how difficult it is.
Some decisions were also not easy and some decisions were perhaps also wrong, but situational and at that time, it was the decisions that I made myself and bore the responsibility for it and were also the right ones at that moment.
The training at Monika is a great personality training, not always easy, but exciting. I have been able to benefit a lot from it over the whole years and I wouldn't be where I am now.
I could not and did not always want to accept some things and as a result I stalled and stopped in training with the dog. Sometimes I also pushed my limits and I thought it couldn't go on, it's always the same. I only saw the final result, but not the small successes on the way. That always gave setbacks, because then I didn't move forward and stopped. The important thing for me is always to move forward and not to stall or stop.
It is the best decision of my life to train the dog and me with Monika. We grow together into a team and walk the path together and thanks to the dogs I look at myself again and again to make the training forward.
Andrea F.
In all these years; in which I am in the Hundetherapie und -schule Bodmer, my way led me over meadows, hill and dale, downhill and uphill. Often I also fell down. However, with the help and a clear push from Monika, I got up again and continued on this path. Sometimes it was difficult for me to stay on my chosen track. But since I wanted to go further, I had to fully discipline myself, look at myself honestly and correct myself accordingly. Often I had to gather my courage and bridge boundaries in order to take another step forward. A few times I rested on my laurels. However, the reaction of my St. Bernard was not long in coming. With her behavior she showed me very clearly: don't you do….., I don't want to do that either. Welcome to Earth. Exactly at this point I woke up and my first thought "darned" Now I knew what to do. So I learned to go further and further with Monika, even if there is a success, or it becomes more difficult. Standing still means losing.
For me, a new path has now begun. I am allowed to give dog training to seniors. Now I can pass on my my knowledge to someone else. I learn a lot myself, because every movement that has to be shown the important body tension consciously. Since I often have automatism, it became frighteningly clear to me during the first lesson. It takes even more self-criticism and own discipline to be able to pass on all my knowledge cleanly without cramping or doggedness. For me, this is a great challenge that I gladly accepted.
Learning things that I want to do, I learned thanks to my dog. She takes me seriously when I don't pull something off and doesn't give up, she's the best trainer I can have for me. Meanwhile I know her better and better and she knows me too, it's great to notice how we become a team and are more and more a unit. But before I got that far, I had to learn to pursue my goals and not to give up when it gets exhausting. I am very grateful to my dog, as she always shows me what I can achieve. I am looking forward to the future and I give "volle pulle" !!!!!!!
Seraina B. 14 years
At the beginning the enthusiasm: wow like that, that's what I want too. Shortly afterwards the disillusionment: oops, a lot of work, realization my insecurities are much greater than expected, work with dog = especially work on me.
For a long time, I kept asking myself, why am I actually doing this to myself? But I felt again and again, it is the right way I am on. Yes, you have to want, want change, see mistakes and want to improve. Unfortunately, I failed with my first dog. I was ashamed, angry, sad. But then, for me, one of the most important and beautiful experiences of all: I am carried, I am given the opportunity to continue and continue learning, without reproach.
Meanwhile, sometimes there is real joy about what I have already achieved, personally and with my dog, always in the awareness that I want to go even further.
I have found my way and I will continue it for myself, for my children and my animals.
Corina B.
When I took over Lenn from Monika to train, I immediately felt that something with a very great willpower follows me, but is not 100% with me. Exactly this topic I have with my dog. Lenn reflected exactly all the topics I also have with my dog. This showed me once again that it is not the dog that is the "problem", but definitely the human being. Lenn completely reflected my behavior. For each person Lenn led, he reacted differently and showed exactly what the topic of the respective dog handler is. This experience was very amazing and it is, for me, an incentive to continue working on myself so that I can become a team with my dog.
Seraina B.